Best Asterisk Support in UAE
Build Voice, Video and Text Applications Easily With Asterisk, The World's Most Widely Adopted Open Source Communications Software Development Framework.
Please Call us on 04-3510481 for a Complete Comparision Sheet between Avaya, Panasonic and Asterisk.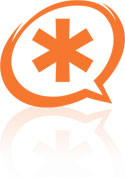 Savings. Whether your're starting a new business or growing an existing company, Asterisk can save you thousands on your business phone system. Asterisk turns an ordinary computer into a powerful communications server. Even better, there's no proprietary hardware, no exorbitant licensing fees and no permanent ties to a single vendor. With Asterisk you can take advantage of low-cost VoIP service, use business phones built on open standards, and access enhanced features that would typically cost thousands of dollars to add to any proprietary business phone system
Asterisk is a complete PBX in software. It runs on Linux, BSD, Windows (emulated) and OS X and provides all of the features you would expect from a PBX and more. Asterisk does voice over IP in four protocols, and can interoperate with almost all standards-based telephony equipment using relatively inexpensive hardware.
Asterisk provides Voicemail services with Directory, Call Conferencing, Interactive Voice Response, Call Queuing. It has support for three-way calling, caller ID services, ADSI, IAX, SIP, H.323 (as both client and gateway), MGCP (call manager only) and SCCP/Skinny. Check the Features section for a more complete list.
Asterisk turns an ordinary computer into a communications server. Asterisk powers IP PBX systems, VoIP gateways, conference servers and is used by small businesses, large businesses, call centers, carriers and governments worldwide.

Power. Asterisk helps developers quickly and easily create powerful unified communications solutions.
Freedom. Asterisk is freely available under the terms of the GNU GPLv2 license and we can connect SIP based Cisco, Grandstream, Yeastar, Yealink Phones.
Flexibility. Asterisk seamlessly connects with VoIP and legacy communication systems, no problems.
Focus. Asterisk handles the low-level details of real-time communications, allowing developers to concentrate on business logic.
Open Source Communications Solutions. Say Hello to Asterisk VoIP Solution Distributor and Start Building a Better Business VoIP Phones System Sharjah and Asterisk Support Dubai Call Now : 04 351 0481
Grandstream IP Phones Reseller, Yeastar